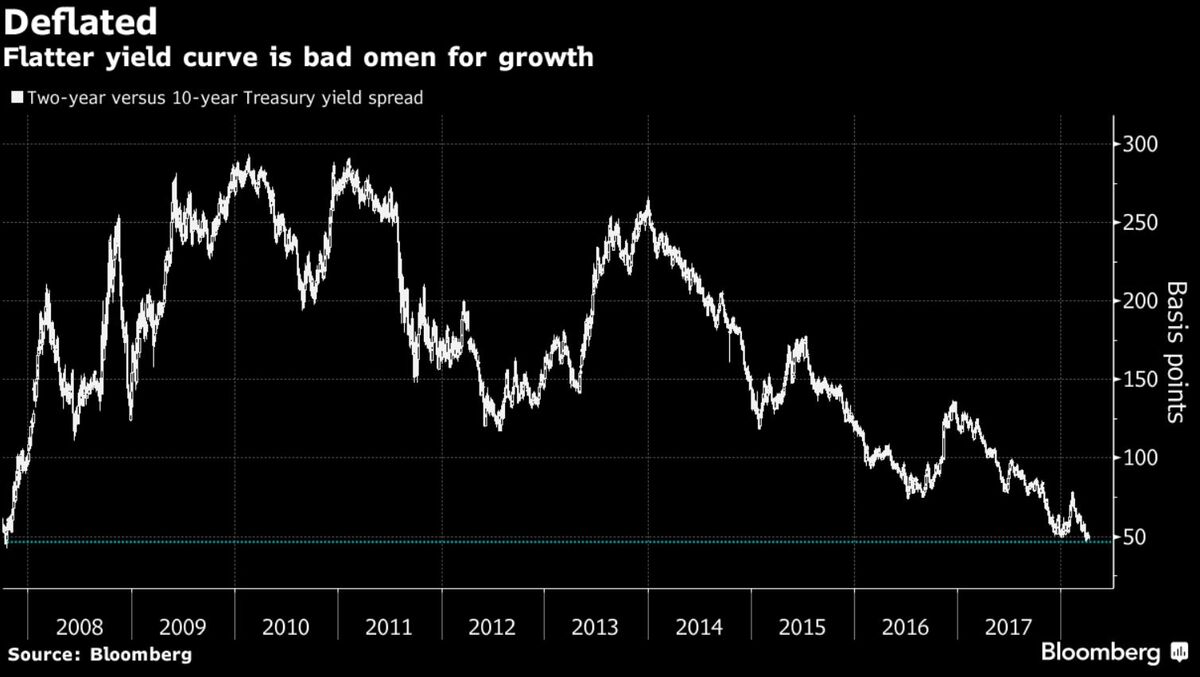 Some have started to fret the bond market is

portending a recession. Not James McAlevey.
The fixed-income fund manager at Aviva Investors, which oversees 243 billion euros ($301 billion) of bonds, is instead loading up on risk and yield curve-steepener trades. He expects the U.S. economy to expand — not shrink.
"The recent trade shocks aside, the U.S. economy looks like it's on pretty firm footing," McAlevey said in an interview.
But a key metric may contradict that, which is making some people nervous. The fear: the

yield curve is threatening to not only flatten but invert, with longer-term rates set to fall below more immediate ones, signaling a growth slowdown.

Investors scarred by the financial crisis a decade ago are "hard-wired" to react to clues that portend slowing growth and overthink yield-curve shapes, McAlevey said.
The debate intensified in recent days after JPMorgan Chase & Co. strategists noted a

slight inversion in money-market forward rates that serve as a proxy for the federal funds rate, foreshadowing the same for two- and 10-year

note yields. The takeaway, according to JPMorgan's Nikolaos Panigirtzoglou, is that the market is bracing either for a Fed policy mistake or the end of the economic cycle.
But in this case the yield curve can't be trusted because overzealous central bank purchases have pushed down yields and the term premium, or compensation for buying longer-dated debt, according to McAlevey. And that's set to change as the Fed runs down its balance-sheet holdings, foreign buyers withdraw, and growth and inflation pick up.
"If the term premium goes up through time, the yield curve should start steepening," he said. He says the gap between two- and 10-year notes, now at 48 basis points, could return to early 2017 levels of about 125 basis points.
Non-resident holdings of Treasuries have already fallen amid a weak dollar and declining appetite for U.S. securities. A recovery in the greenback could even continue this trend as it reduces the incentive for export-orientated central banks to temper local-currency strength, McAlevey said.

"Investors have forgotten that fundamentals move markets," he said. "Cycles don't just die of old age; cycles die because there's a trigger that destabilizes the economy."